about us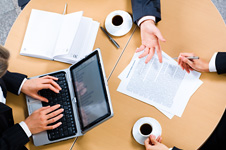 Since its inception in 2001, APR design has delivered reliable and consistent graphic design, web development, and web marketing services to local companies on Long Island and New York area.
Elizabeth Wyszynski has 8 years experience in all aspects of public relationship and business communication including entertainment and restaurant industry in the Hamptons on Long Island. Her primary focus is defining, creating and implementing marketing strategies and new business development.

Zaneta Libuda has over 5 years of general business experience to the firm. Her primary responsibilities include sales, legal, and accounting coordination.
Robert Zaleski brings 10 years of IT business experience to the firm. His primary responsibilities include SEO, photo and video production.

Peter Soroka has over 15 years of web design experience in New York area. He is specialize in designing creative websites, logos & brand identities for small businesses.


Our Values
We believe that who we are as a company begins with how we treat one another in the workplace. We are committed to serving and caring for one another while doing quality work for our clients. Although technology is our business, we are aware of its dehumanizing potential. Our clients benefit from our increased communication and sharing of ideas.
Customer Service

Our customer service to our clients is hands down the best in the industry. We know and care about all of them regardless of size and of the project we do for them.
Availability

Our Customer Support Representatives are available 5 days a week from 10 am till 5 pm
We provide email and phone support (during business hours).
Our Commitment
We know our strengths and we stick to the foundations of our own business: providing well-designed and easy-to-navigate websites for small businesses and organizations.